The proprietor of this pub in the good old English country town of Yeovil, Somerset had plans for a complete refurbishment, including the restoration of the very poorly maintained Quarry tiled floor in the kitchen.
Without professional attention the kitchen floor had suffered under years worth of food and drink stains and grease, and plenty of general dirt, leaving it looking dull and grotty. In a busy kitchen environment this is to be expected, but the pub owner decided it was finally time for a thorough clean and a fresh seal, and recruited me to get the job done.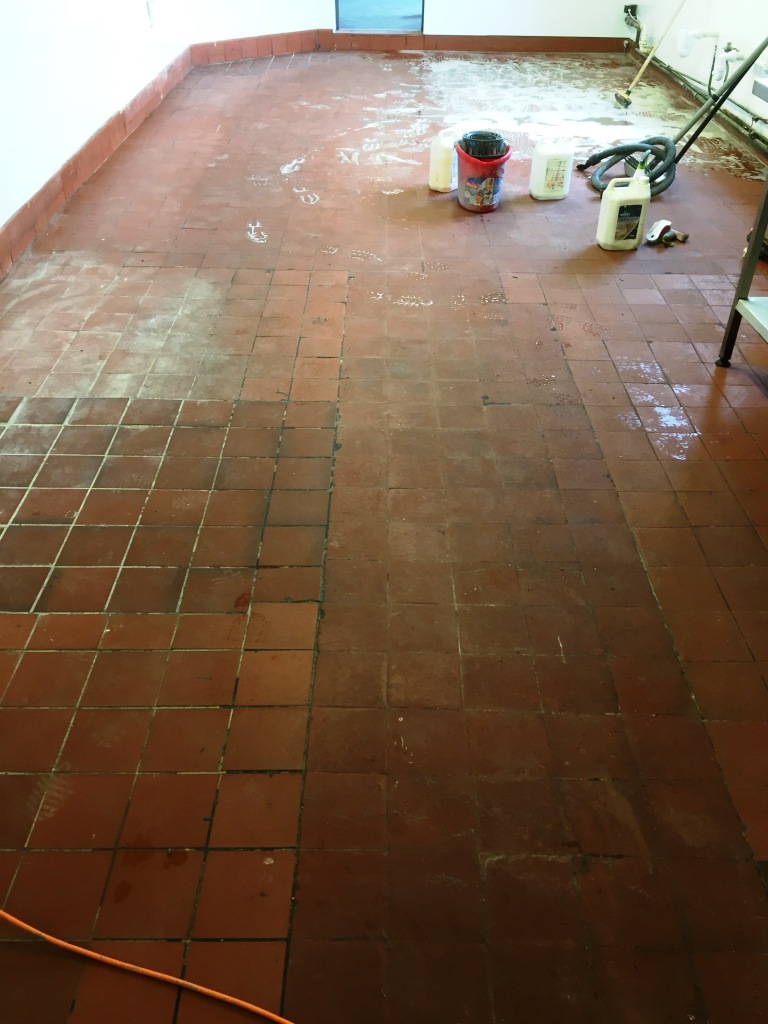 Cleaning a Dirty Quarry Tiled Kitchen Floor
To begin the restoration I covered the entire floor with Tile Doctor Remove and Go, our heavy duty remover designed to break down soil and grease buildup, and to strip away any old sealer on the tiles. I then proceeded to scrub the floor with a rotary machine fitted with a black scrubbing pad to remove the many layers of muck. Special attention was paid to cleaning the grout lines by hand using a special grout brush.
The difference made by the cleaning was immediate once I had throughly rinsed the floor to remove any excess cleaning residue. As per usual, I then left the floor to dry completely. Having the floor completely dry before sealing it is essential as even the smallest amount of moisture can cloud the sealer and damage its ability to protect the tiles.
Sealing a Quarry Tiled Kitchen Floor
The floor was left for two full days, leaving it plenty of time to dry. Upon my return to the pub, the owner requested a sealer that would provide a natural matte finish since this is a high traffic commercial kitchen used for a lot of cooking, and therefore would not suit a sheen finish in the same way that a residential kitchen would.
I sealed the floor with multiple coats of Tile Doctor Colour Grow, an impregnating sealer that fills the pores of the Quarry to prevent muck from becoming ingrained, which will prove important in this area that is prone to spillages. Colour Grow also accentuated the reddish shades in the stone, while providing the natural no-sheen finish requested by the customer.
To say that the condition of this Quarry tiled kitchen floor has been transformed would be quite an understatement. A deep clean has taken it from looking excessively grotty and greasy to fresh and clean, while the addition of a new, robust seal will prevent it from falling back into such a bad state. The customer was very pleased indeed!
Professional Tile Cleaning and Sealing for a Dirty Quarry Tiled Kitchen Floor Restoration in Yeovil, Somerset
Quarry Tiles Cleaned and Sealed at a Pub in Yeovil, Somerset