Pitting, which can be described as a natural form of corrosion that occurs on stone such as Travertine, can be a big problem for property owners with tiled floors. This is because the corrosion causes lots of small holes to form in the stone; without proper protection in place, these holes can quickly become ingrained with dirt. To make things worse many supermarket cleaning products are acidic and overtime they can eat into the stone making the problem worse.
Without the right maintenance and adequate sealer in place Pitted Travertine will be very difficult to keep clean and this was the problem that had affected the Travertine tiled floor of one of my customers in the town of Frome; a Somerset market town packed with interesting architecture and historic buildings.
Cleaning a Pitted Travertine Tiled Floor
I travelled to the property to see what could be done to resolve the situation and I could immediately see the very noticeable problem was related to dirt that had become ingrained into the stone and grout, a problem that covered a large area from the kitchen to the dining area.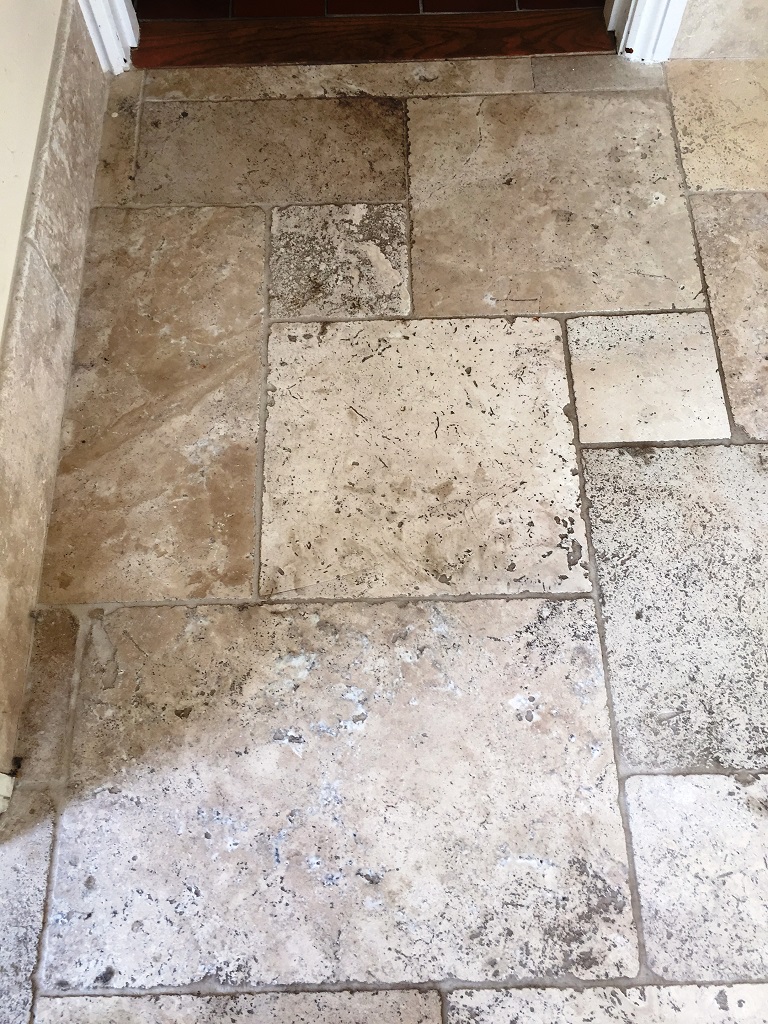 To deep clean the floor I set about applying a strong dilution of
Tile Doctor Pro-Clean
, which is our go-to alkaline cleaner for natural stone. I left it to soak for ten minutes before scrubbing it into the stone and grout paying focus to the individual pits to soften and help dislodge the ingrained dirt. The soiled cleaning solution was rinsed off with water using a wet vacuum to extract it from the floor.
I then used Tile Doctor's set of four diamond encrusted burnishing pads. Each pad was fitted to a rotary floor machine and applied with a little water to help lubricate. In our system, we start with a Coarse grit pad to remove old sealers and dirt and gradually work our way through to Medium, Fine and Very Fine grit pads to achieve a high quality polished finish.
It was a large area so it took most of the day to completely burnish the floor and once finished I filled the larger pits with a matching resin which will improve the overall appearance of the floor and minimise the issue of dirt becoming ingrained.
Sealing a Pitted Travertine Tiled Floor
The Travertine tiled floor was then left to dry out fully before I could return to seal it though next day. We typically allow for at least 24 hours, unless there are any inherent damp issues.
My sealer of choice here was Tile Doctor Colour Grow, which is an impregnating sealer designed to enhance colour and protect he stone. It does this by penetrating the pores to fill them and therefore prevent dirt becoming trapped – which had been the major problem with these tiles to begin with.
The photos below show a complete transformation. As you can imagine, the owners were thrilled with the finished floor.
Professional Travertine Stone Floor Restoration in Somerset
Rejuvenating Pitted Travertine Tiles in Frome